Hello, and thank you for dropping by.
We hope that you have enjoyed using The Railway Conductor model store website as much as we enjoyed working with Jonathan and Sally during the creation of the site.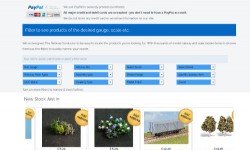 The Brief
Our brief was to construct a website with 4,000 plus products that would be accessible via any device, (mobile, tablet, laptop or desktop) with a responsive layout that was user friendly both for the customer and the administration team.
The ambition is to become one the the top online model stores in the UK, and the site will continue to develop with a host of additional features.
Security was also a top priority as it with all Starwood Systems constructed websites, and the site is protected by a multi-layer security system.
Research
Our initial research in the scale model sector gave us an insight into the layouts and methods of searching for products that customers were currently using and allowed us to amalgamate the best features of a multitude of websites into one.
Continued analysis of the visitor data allows us to focus on visitor behaviour on the site and subsequent conversion rates.
If you would like a similar fully featured website for your business, connect with us today.